I am trying out something new for today because I've been seeing it all over the place in the healthy living blog world. It's a virtual party, it involves food, and it looks like fun, so why not, right?
This party is hosted every Wednesday by Jen at Peas and Crayons and is called What I Ate Wednesday. At first you might be thinking, really? People are really interested in everything people eat over the course of an entire day?
Oh, yes! It can be called curiosity, idea searching, or just plain being nosey, but it is fascinating. In fact, there are many people who devote their entire (quite successful!) blogs to posting what they eat for each meal of every day. I know I have gotten many new ideas by reading these types of blogs, and find them so helpful since I often find myself in a food rut–eating the same old things for breakfast and lunch especially (the meals I make just for myself), day in and day out.
In fact, that is one of the reasons I wanted to do this today. I have been in a major rut. I am joining the party to get some new inspiration. You'll see that I could use it, for sure.
So welcome to my first edition of: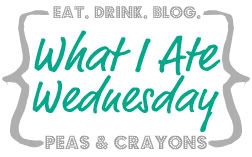 This is actually mostly what I ate yesterday. Except for dinner. But I'll get to that in a minute.
Breakfast:
I couldn't decide. Nothing sounded good. I had two hours sleep and was up all night with Jace who had a bad earache. Luckily, Erik was able to stay home with him so I could still volunteer in Cameron's 3rd grade class. Just before heading out, I threw this together.
Plain Greek yogurt, defrosted frozen raspberries, and a sprinkle of homemade granola. With an unpictured glass of water I guzzled on the way out the door. On the bright side, at least Cameron "let" me walk with him to his class instead of asking to be dropped off a block away from school like he did last week. (Omg, already? He's only 8 years old!)
Early Afternoon Wake-Me-Up:
When I got home there was no time for lunch as I had to take Jace to the doctor for his ear. I was dragging and needed some help. My favorite tea in my favorite mug:
Good Earth Sweet & Spicy. I wish I could say I sat at the kitchen table enjoying a leisurely cup of tea with soft music playing in the background while casually perusing the latest Crate & Barrel catalog, but no. I took a couple sips then dumped it into my travel mug to drink in the car on the way to the doctor. Diagnosis: unilateral ear infection with a blister on his eardrum. The doctor couldn't believe he was smiling during the appointment.
Lunch:
By the time we got home from the doctor, grocery store and pharmacy it was 2:30. I debated skipping lunch but with as little sleep as I had knew that would be a recipe for disaster later that evening resulting in a major junk food attack. With no energy to expend, I settled on leftovers thrown in the microwave with a side of my favorite publication of the whole year:
Martha Stewart and Halloween in the same magazine?! Yippeee!
Lunch was carrots and cauliflower roasted with a little butter and salt from dinner the night before, sprinkled with hemp seeds.
Not too exciting, but delicious nonetheless.
Dinner:
What I actually had for dinner was some major tooth pain from getting my fillings replaced last week, so I just drank some vegetable broth and took some Aleve instead of eating dinner with the rest of the family. But, since this is not a typical occurance, I am going to borrow a dinner I photographed a few days ago.
Roasted butternut squash with carmelized onions, toasted walnuts and goat cheese served over millet cooked in veggie broth with a side of tempeh sauteed with carmelized onions and a mixture of maple syrup and liquid aminos. It was one of those meals that I made up as I went along, and the result was awesome.
Snack:
A few bites (or four) of Chelsey's chewy pumpkin spice granola bars, chewed on the right side of my mouth.
So there you have it. Not a stellar day of eating, (but it was not a very stellar day!) There's always tomorrow, right?
What did you eat today? Or yesterday? I need some inspiration!